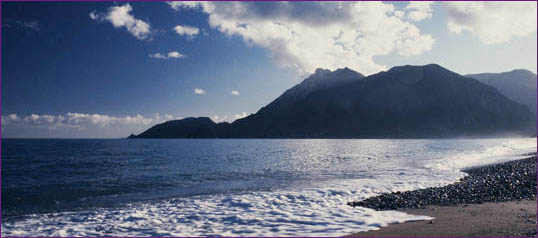 The 14000 m2 (approximately 3.5 acres) grounds of FLORA Mediterranean Garden are located at Beycik, a picturesque village at the skirts of Mount Tahtali, one of the legendary Olympos sites. We are at 450 m. above sea level, in a forested area of Beycik. Access is by a dirt road, 1,250 m. inland from the main Antalya-Kas road.
The distance to the the cosmopolitan city of Antalya is 70 km.
Main amenities such as airports, hospitals, post offices and shops are at comfortable access.
FLORA Mediterranean Garden is 20 minutes away from Olympos-Cirali Beach, a conservation area for the endangered Loggerhead Turtle. Locals practice organic farming and sustainable eco-tourism.
The antique sites of Chimeara, Olympos and Phaselis are at proximity.
The nearest Marina facilities are at the small Mediterranean ports of Kemer (ancient Idyros) and Finike .